Stream | Thao & the Get Down Stay Down – We the Common
by Kyle Mitchell, the editor and founder of Music Savage, lover of music, hater of remixes.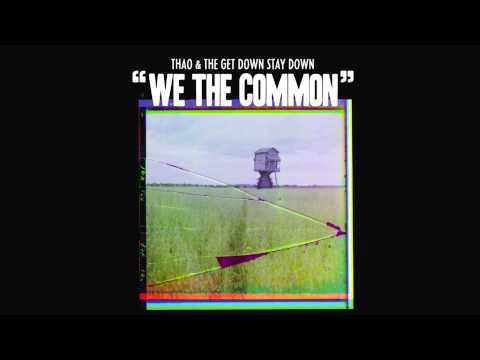 Check out the stream on the titular track from Thao & the Get Down Stay Down's upcoming album We the Common, a pretty awesome and truly awesome sounding track that employs a lot of influences, a near cornucopia of sounds that blasts on all cylinders during the choruses, its almost anthemic in nature. Its extremely infectious, and begs to be replayed, so listener beware. We the Common is turning out to be one of the must hear records of the year, and drops on February 5th, I'm really excited about hearing more from this album.
THAO & THE GET DOWN STAY DOWN IN-STORE PERFORMANCES
February 5 Los Angeles, CA Fingerprints Records
February 6 San Francisco, CA Amoeba Records
February 8 Seattle, WA Sonic Boom Records
February 9 Portland, OR Jackpot Records
THAO & THE GET DOWN STAY DOWN'S WE THE COMMON TOUR
* with Sallie Ford & The Sound Outside
March 1 Sacramento, CA Blue Lamp
March 2 San Francisco, CA Great American Music Hall*
March 5 Portland, OR Doug Fir Lounge
March 6 Vancouver, BC Fortune Sound Club*
March 7 Seattle, WA Neumos*
March 8 Boise, ID Neurolux*
March 9 Salt Lake City, UT Urban Lounge*
March 11 Denver, CO Larimer Lounge*
March 16 Houston, TX Fitzgerald's*
March 17 New Orleans, LA One Eyed Jacks*
March 18 Atlanta, GA Smith's Olde Bar*
March 19 Asheville, NC Grey Eagle*
March 20 Washington, DC Black Cat*
March 22 New York, NY Bowery Ballroom*
March 23 Philadelphia, PA Underground Arts*
March 24 Cambridge, MA The Sinclair*
March 27 Toronto, ON Lee's Palace*
March 28 Ann Arbor, MI The Ark*
March 29 Chicago, IL Lincoln Hall*
March 30 Milwaukee, WI Turner Hall*
March 31 Madison, WI Majestic Theater*
April 1 Minneapolis, MN Cedar Cultural Center*
April 2 Iowa City, IA Mission Creek Festival*
April 3 Kansas City, MO Record Bar*
April 5 Albuquerque, NM Launchpad*
April 6 Phoenix, AZ Crescent Ballroom*
April 7 San Diego, CA The Casbah*
April 8 Los Angeles, CA Troubadour*